SuperTeam PCSO St. Baldrick's Gallery (2022)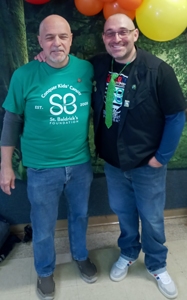 Deacon Ed Riccillo from St. Joseph Catholic Church participated in the head-shaving event for St. Baldrick's on Saturday, March 19, 2022. Deacon Ed Riccillo from St. Joseph's Catholic Church, is the father of Brad Riccllo, the event coordinator for the St. Baldrick's Annual Fundraiser.
---
Below are pictures taken of the 2022 St. Baldrick's Fundraiser held at the Veteran's of Foreign Wars (VFW) post in Pueblo West, CO. This was the first time since 2018 that the SuperTeam PCSO was able to hold the event due to the COVID-19 pandemic. It was a great day to raise funds to help kids in need as the continue their ongoing battle with childhood cancer.
Many thanks goes out to Blanche Podio from Dimensions Photography in Pueblo West for taking the pictures during the head-shaving event.