Welcome to SuperTeam PCSO!
Hello! My name is Brad Riccillo and I am the Captain of SuperTeam PCSO. The members of SuperTeam PCSO shave their heads yearly to help raise money for childhood cancer research!
Mission Statement: Superteam PCSO - "People Choosing to Serve Others."
The members of SuperTeam PCSO organize fundraisers in the Pueblo community in order to raise awareness (and funds) for childhood cancer.
This is my 10th year of participation and this promises to be the biggest to date.
Please visit our Facebook page for updates and news about the events in the community. Oh, and another thing, this is YOUR community, if you have any ideas for fundraisers....please contact me and let's talk!
Did you know that kids' cancers are different from adult cancers? It's true. And childhood cancer research is extremely underfunded. So I decided to do something about it by raising money for cures.
Now I need your help! Will you make a donation? Every dollar makes a difference for the thousands of infants, children, teens, and young adults fighting childhood cancers.
Below are four ways to donate to Superteam PCSO!
---
12th Annual St. Baldrick's Coming to Pueblo West March 18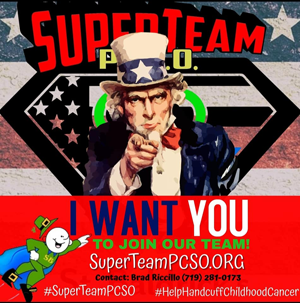 It's The 12th Annual St. Baldrick's Head Shaving Event is going to be held on Saturday March 18th beginning at 11AM. The festivities will be at VFW 5812 Pueblo West, CO.
The St. Baldrick's Foundation is an organization dedicated to raising funds for childhood cancer research. The participants raise money and get their heads shaved to show support for the children who lose hair due to the deadly disease.
The event is in need of not only participants, but people to volunteer:
well....https://www.stbaldricks.org/events/mypage/7857/2023
Please contact Brad Riccillo or Yolanda Riccillo for details.
#HelpHandcuffChildhoodCancer
#SuperTeamPCSO
#RockTheBald
#stbaldricksfoundation
www.superteampcso.org
www.stbaldricks.org